Of Mice and Murder
Unabridged Audiobook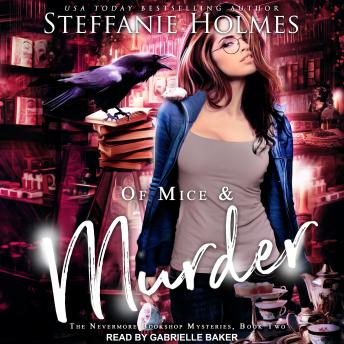 Duration:
7 hours 44 minutes
Summary:
Join a brooding antihero, a master criminal, a cheeky raven, and a heroine with a big heart (and an even bigger book collection) in this hot new steamy reverse harem paranormal mystery series.

When the local Banned Book Club lose their meeting room, Mina volunteers to host the group at Nevermore Bookshop (against Heathcliff's muttered protests, of course). Little does she know this old biddies book club is about to turn murderous.

First, someone poisons Mrs. Scarlett, then members of the book club start dropping like flies. Who in the village will turn to murder just to stop people reading a few dusty old books?

Mina's got to figure it out quick, or her beloved teacher Mrs. Ellis is next to die. Luckily, she's got Moriarty, Heathcliff, and Quoth to help. That is, if she can figure out her feelings for her three fictional men before the magical bookshop is torn apart by sexual tension.

They want her.

She can't choose. But maybe . . . she doesn't have to.

Contains mature themes.
Genres: