Of Thee I Zing: America's Cultural Decline from Muffin Tops to Body Shots
Unabridged Audiobook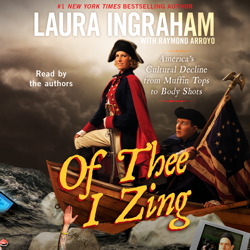 Duration:
7 hours 28 minutes
Summary:
From #1 New York Times bestseller and radio phenomenon Laura Ingraham a sharp-witted, comic romp through the culture and habits of everyday U.S. citizens—now available in paperback.

My culture is depraved, Not sure it can be saved . . . Of Thee I Zing. Land filled with STDs, Pants way down to the knees, Nary a "thanks" or "please" This is going to sting. . . .

While Laura Ingraham was walking through a Northern Virginia shopping mall one Saturday afternoon, it all became clear to her: Our country is in grave peril. Our culture of ignorance, arrogance, and gluttony undermines our present and endangers our future. Everywhere she turned, she saw signs of the impending disaster: zombie teens texting each other across a café table; a man having his eyebrows threaded at a kiosk; a fiftyish woman shoehorned into a tube top and skinny jeans; and a storefront ad featuring a Victoria's Secret model spilling out of her push-up bra and into the faces of young passersby. Ingraham wondered, "Is this it? Is this what our forefathers fought for? What my parents struggled for? I wonder if Victoria's Secret is still having that two-for-one sale?"

In an act of patriotic intervention, the most-listened-to woman in talk radio casts her satirical eye upon all that ails American society. In this sharp-witted comic romp, Laura Ingraham takes you on a guided tour through ten levels of our cultural hell.

You know we're in trouble when . . .

Airplane seats shrink—just as the passengers expand.

Celebrity baby names go from the peculiar (Apple, Stetson, and Daisy Boo) to the pathetic (Bamboo, Blanket, and Bronx).

People meticulously tend their virtual crops on Farmville, while their children eat takeout.

"Breaking News" usually means it happened yesterday.

The weddings last longer than the marriages.

Facebook has become a verb and reading has become an ancient art form.

Of Thee I Zing is cultural commentary too funny to ignore, igniting a national conversation long past due. America, your cultural recovery begins here.
Genres: