Once Upon a Temptingly Ruinous Kiss
Unabridged Audiobook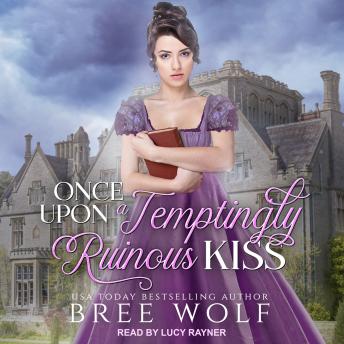 Duration:
11 hours 52 minutes
Summary:
A marquess hell-bent on revenge. A lady haunted by her past. And an encounter that just might save them both.

England 1802: LADY LEONORA, daughter to the EARL OF WHICKERTON, longs to understand . . . the world in its entirety, particularly, human nature. Always observing those around her, Leonora finds herself utterly fascinated by what people say and do, by how their eyes reflect what is in their hearts and how each and every emotion can be read upon another's face.

One night, Leonora's curiosity leads her astray, forcing a lesson upon her that she cannot forget: the greatest evil hides behind the most charming smile.

DRAKE SHAW, MARQUESS OF PEMBERTON, lives a life of regret and shame. Unable to right a wrong of his past, he seeks to punish those without honor. Drake has developed a keen eye for a lady who has been hurt. He recognizes the look of fear and pain in her eyes and understands it for what it is: the need for revenge.

Until one day, Drake comes face to face with a young lady who surprises him at every turn. She is vulnerable and fearful, but also brave and . . . dauntless. Thrown off balance, Drake soon realizes that living for revenge might no longer be all he desires.
Genres: