One Bullet Away: The Making of a Marine Officer
Abridged Audiobook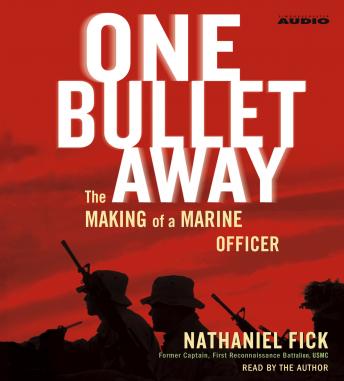 Duration:
6 hours 6 minutes
Summary:
If the Marines are 'the few, the proud,' Recon Marines are the fewest and the proudest. Only one Marine in a hundred qualifies for Recon, charged with working clandestinely, often behind enemy lines. Fick's training begins with a hellish summer at Quantico, after his junior year at Dartmouth, and advances to the pinnacle -- Recon -- four years later, on the eve of war with Iraq. Along the way, he learns to shoot a man a mile away, stays awake for seventy-two hours straight, endures interrogation and torture at the secretive SERE course, learns to swim with Navy SEALs, masters the Eleven Principles of Leadership, and much more.
His vast skill set puts him in front of the front lines, leading twenty-two Marines into the deadliest conflict since Vietnam. He vows he will bring all his men home safely, and to do so he'll need more than his top-flight education. He'll need luck and an increasingly clear vision of the limitations of his superiors and the missions they assign him. Fick unveils the process that makes Marine officers such legendary leaders. One Bullet Away never shrinks from blunt truths, but it is an ultimately inspiring account of mastering the art of war.
Genres:
1 of 1 people found this review helpful.

1 of 1 people found this review helpful.