The One from the Other: A Bernie Gunther Novel
Unabridged Audiobook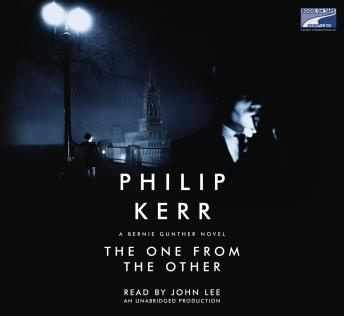 Duration:
12 hours 52 minutes
Summary:
Bernie Gunther, the tough, fast-talking noirish detective who made his first appearance in March Violets, takes center stage in this twist-filled thriller that turns Philip Kerr's German trilogy into a surprise-filled quartet. Fans have had to wait fifteen years for Bernie's resurrection. They will not be disappointed.

Munich, 1949: Amid the chaos of defeat, it's a place of dirty deals, rampant greed, fleeing war criminals, and all the backstabbing intrigue that prospers in the aftermath of war. It is also a place where a private eye can find a lot of not-quite-reputable work: cleaning up the Nazi past of well-to-do locals, abetting fugitives in their flight abroad, sorting out rival claims to stolen goods. It's work that fills Bernie with disgust–but it also fills his sorely depleted wallet. Then a woman seeks him out. Her husband has disappeared. She's not looking to get him back–he's a wanted man who ran one of the most vicious concentration camps in Poland. She just wants confirmation that he's dead.

It's a simple enough job. But in postwar Germany, nothing is simple–nothing is what it appears to be. Taking the case, Bernie takes on far more than he'd bargained for, and he soon finds himself on the run, facing enemies on every side. Because in a defeated and divided Germany, it's hard to know friends from enemies, the one from the other.
Genres: