One Little Spark!
Unabridged Audiobook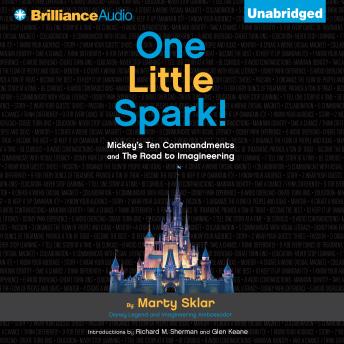 Duration:
5 hours 45 minutes
Summary:
Walt Disney Imagineering is one of the most secretive places at The Walt Disney Company. No tours are allowed: the Imagineers-artists, writers, designers, scientists, engineers, architects, and those in almost 140 other disciplines-are always creating new projects to be unveiled four or five years later in one or more of the eleven Disney parks around the world. (A twelfth, Shanghai Disneyland, is set to open in 2016.)
Who are the Imagineers? How did they prepare to join the Disney team? What advice do they have for future Imagineers? A day in the life of Disney Legend Marty Sklar doesn't go by without some variation of these questions being asked by young and old alike. Others are, "How can I prepare to become an Imagineer?" Or "What's it like to be part of the creative team at Imagineering?"
In One Little Spark!, a follow-up to his popular memoir Dream It! Do It! My Half-Century Creating Disney's Magic Kingdoms, Marty first provides his own personal philosophy developed in working directly with Walt Disney and the pioneering Disney Legends. Called "Mickey's Ten Commandments," they became Marty's-and the Imagineers'-framework for creating the Disney parks worldwide.
With that foundation, Marty then pulls back the curtain to the "secret world" of the Imagineers, creating "The Road to Imagineering" and introducing anecdotes, memories, and key advice from seventy-five Imagineers. One Little Spark! is everyone's "insider's view" into the world where Disney park dreams are born-and built!
Genres: