One of the Girls: Friendzone, Book 1
A free trial credit cannot be used on this title.
Unabridged Audiobook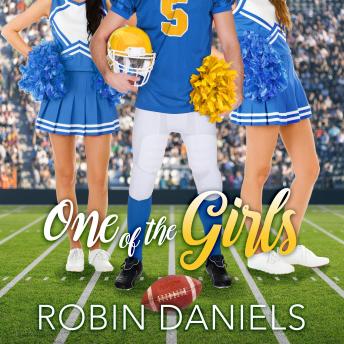 Duration:
7 hours 21 minutes
Summary:
Senior Nick Moody is the second string quarterback on Roosevelt High School's championship football team. He's crushed on Mia for years, but she doesn't know he exists. It's time to come off the bench and into the game. Nick refuses to graduate without getting the girl or the glory.
Mia Ashlock is the remarkably kind cheer captain. She's a yes girl, and her penchant for people pleasing always leads to bad relationships. After being humiliated in a very public dumping, her teammates decide to break her bad habit with a ban on boyfriends.

When Nick sees a poster, advertising cheer tryouts, he has a crazy idea: quit football and become a cheerleader. It's perfect! He can get close to Mia and steal the spotlight, using his true and hidden talent—gymnastics. Nick and Mia have instant chemistry, but it does him little good. If Mia's zero dating rule weren't bad enough, the team treats him less like boyfriend material and more like one of the girls. Breaching the friendzone will be much harder than he thought.
Genres: