Out of Darkness
Unabridged Audiobook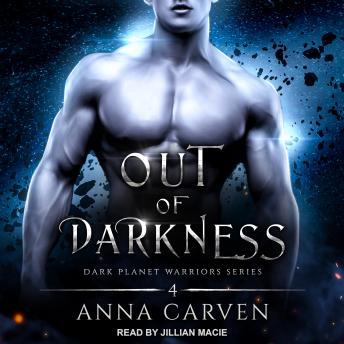 Duration:
7 hours 50 minutes
Summary:
The Kordolians are loose on the asteroid mining station Fortuna Tau, and first-rank mechanic Jia Morgan has gotten caught up in the thick of things. Under the careful watch of these steely-eyed silver warriors, Jia and her team have been tasked with repairing the hull of the Kordolians' Alpha-Class battle cruiser, Silence.

The problem is, their alien technology is far, far beyond anything she's seen before, and whatever they try to weld to Silence's black hull just won't stick.

When Jia goes in search of a tool that might actually penetrate the warship's impossibly strong Callidum exterior, she finds herself being aided by a most unlikely source. The hard-faced warrior who's decided to accompany her walks on silent feet and carries a big, big gun. He's equal parts scary and attractive, in an otherworldly sort of way.

But although Jia finds this Kordolian fascinating, she's not even going to try and get close to him, because, well, he's a freaking Kordolian, and Kordolians aren't exactly known throughout the Nine Galaxies for being nice and warm and fuzzy.

Instead, she's going to do her job and fix their warship, because that's the only way these intimidating warriors are ever going to leave Fortuna Tau. Hopefully, they won't break anything, or anyone, on the way out.

Oh, and there's also the small matter of these flesh-eating insect-aliens called Xargek. Apparently, they bite.

Contains mature themes.
Genres: