Outlaws of the Wild West
Unabridged Audiobook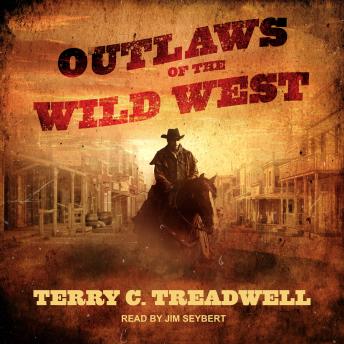 Duration:
8 hours 15 minutes
Summary:
The 'Wild West' developed in the years following the American Civil War. However, this period of myth-making cowboys, infamous gunslingers, not always law-abiding lawmen, and saloon madams, is as much the product of fiction writers and film makers as reality.

Many of those who roamed America's West in the period between 1850 and 1900 often appear as colorful, romanticized, legendary characters. The majority of outlaws, though, were anonymous common criminals. In 1877, the State Adjutant General of Texas published 'wanted posters' for some 5,000 outlaws and bandits in the Rio Grande district alone, almost all of whom have since vanished into the mists of time.

When it comes to the Wild West, it is important to separate fact from fiction. Of the known recorded killings by the various outlaws and gunfighters, Billy the Kid killed four men, not the twenty that some writers attributed to him. Clay Allison, however, was thought to have killed at least fifteen men in his time as a gunfighter, while some of the outlaw gangs were particularly violent and ruthless.

The days of the outlaws of the Wild West gradually came to an end at the turn of the twentieth century. The legends, however, live on.
Genres: