Parish Priest
Abridged Audiobook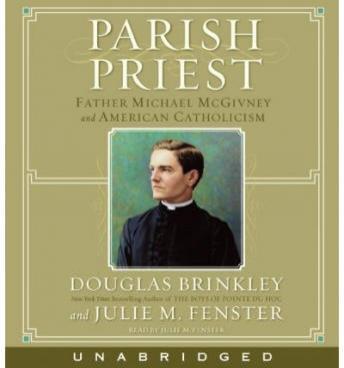 Duration:
5 hours 56 minutes
Summary:
Father Michael McGivney was a man to whom 'family values' represented more than mere rhetoric, a man who has left a legacy of hope still celebrated around the world.

In the late 1800s, discrimination against American Catholics was widespread. Called to action in 1882, Father McGivney founded the Knights of Columbus, an organization that helped to save countless families. It has since grown to an international membership of 1.7 million men. At heart, though, Father McGivney was never anything more than an American parish priest, and nothing less than that, either.

In an incredible work of academic research, Douglas Brinkley and Julie M. Fenster re-create the life of Father McGivney, a fiercely dynamic and yet tenderhearted man. Moving and inspirational, Parish Priest chronicles the process of canonization that may well make Father McGivney the first American-born parish priest to be declared a saint by the Vatican.
Genres: