Party of One: Stephen Harper and his Radical Makeover of Canada
Unabridged Audiobook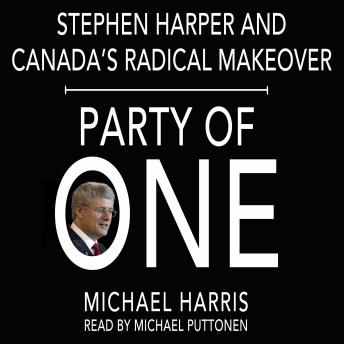 Duration:
17 hours 3 minutes
Summary:
A timely indictment of a prime minister determined to remake Canada.

In Party of One, Investigative journalist Michael Harris gives us an intimate look at Stephen Harper, and draws a portrait of a Prime Minister whose policies and instincts, Harris believes, are a clear and present danger to Canada's democracy. Fueled by the election victory of May 2011, unchecked by the opposition, the staggering gap between Stephen Harper's stated political principles and his practices starkly drive Harris' arguments home.

Harper, an acknowledged master at controlling information is, Harris argues, profoundly anti-democratic. The Harper Government's sins include keeping facts from Canadians and an inclination to invent them (as it did in the F-35 debacle). Since coming to power, Harper has made war on every independent source of information in Canada. Harris recounts Stephen Harper's well-defined and growing list of enemies, whose perspectives are unwelcome, and whose voices are to be suppressed: scientists, diplomats, union members, environmentalists, First Nations peoples, and journalists.

Counter to the backdrop of a Conservative commitment to transparency and accountability, Harris exposes a regime of ultra-secrecy, non-compliance, and dismissiveness. With this Conservative majority in Parliament, the law is simple: what one man, Stephen Harper, says, goes.
Genres: