A Passage to India: A BBC Radio 4 full-cast dramatisation
Unabridged Audiobook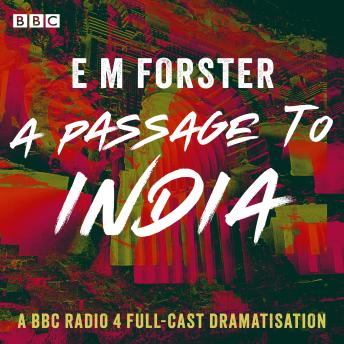 Duration:
2 hours 18 minutes
Summary:
Based on the classic novel by E M Forster, this epic full-cast drama is set against the backdrop of the British Raj and the Indian Independence movement during the 1920s.

When Adela Quested and her companion Mrs Moore arrive in the Indian town of Chandrapore, they quickly feel trapped by its insular and prejudiced 'Anglo-Indian' community. Determined to escape the parochial English enclave and explore the 'real India', they seek the guidance of the charming and mercurial Dr Aziz, a cultivated Indian Muslim. Through them, Aziz becomes friends with Cyril Fielding.

But a mysterious incident occurs when Aziz accompanies the women to explore the Marabar Caves, and the well-respected doctor soon finds himself at the centre of a scandal that rouses violent passions among both the British and their Indian subjects. The consequences affect everyone, and threaten Aziz and Fielding's friendship.

Exploring issues of colonialism, faith and the limits of comprehension, the story begins and ends by posing a question: in this context, is it possible for an Englishman and an Indian to be friends?
Genres: