Pathways to Well-Being: Helping Educators (and Others) Find Balance in a Connected World
A free trial credit cannot be used on this title.
Unabridged Audiobook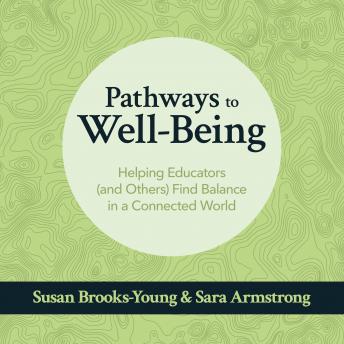 Duration:
3 hours 13 minutes
Summary:
Learn how to address the unexpected consequences of technology use and increase positive connections, which ultimately lead to enhanced well-being.

We all want lives filled with balance, ease and contentment — but how do we get there? In Pathways to Well-Being, authors Susan Brooks-Young and Sara Armstrong share steps to increasing well-being and discuss how six elements — gratitude, positivity, focus, empathy, kindness and movement — impact daily life. All of us, especially educators, influence those around us — in our schools, in our communities and ultimately throughout the world. When we work toward supporting well-being for ourselves and others, our lives are enriched immensely.

This insightful book offers practical examples and activities aimed at helping educators manage their technology use, so they can find balance in work and life. The book includes:


- Real-world connections to help readers answer questions such as: "How does the topic relate to everyday life?" and "What can I do to incorporate what I've learned into what I do at work and at home to make my life, and the lives of those around me, better?"
- Information on the positive and negative aspects of technology related to overall well-being.
- Reflection questions to help readers make healthy changes.
- An overview of each of the six elements of well-being with connections to the applicable ISTE Standards for Educators and the ISTE Standards for Education Leaders.
- Additional resources such as research, articles, books, and websites.



Through the information and activities in this book, educators and others will find ways to reduce the stress in their lives and grow their sense of well-being.
Genres: