Pathways
Unabridged Audiobook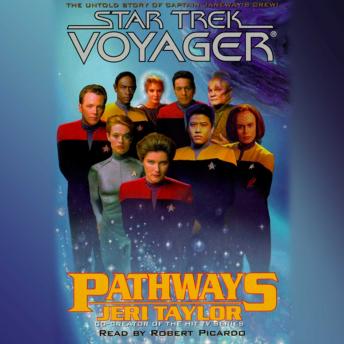 Duration:
5 hours 5 minutes
Summary:
In her acclaimed novel Mosaic, Jeri Taylor explored the previously unrevealed past of Captain Kathryn Janeway. Now, Pathways traces the winding roads that have led Janeway's fellow officers and closest friends to what may be the greatest crisis of their long journey home.

A deadly encounter with hostile aliens has left Captain Janeway's crew separated from the Starship Voyager™ and slowly starving to death in a disease-ridden alien prison camp. To keep up their determinations as they plot their escape, the crew shares with each other the unlikely paths that brought them all to the USS Voyager and the Delta Quadrant.

They began as individuals, following very different pathways, but together, under the leadership of one remarkable woman, they have become one of the finest teams in the known universe—the crew of the USS Voyager.
Genres: