Pericles, Prince of Tyre
Unabridged Audiobook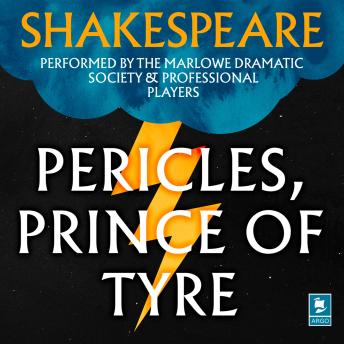 Duration:
1 hours 18 minutes
Summary:
William Collins Books and Decca Records are proud to present ARGO Classics, a historic catalogue of classic prose and verse read by some of the world's most renowned voices. Originally released as vinyl records, these expertly remastered stories are now available to download for the first time.


'For death remembered should be like a mirror,
Who tells us life's but breath, to trust it error.'


The medieval poet John Gower returns from the grave to tell the story of Pericles, Prince of Tyre.


Pericles, Prince of Tyre leaves home to escape death only to win a jousting contest and marry a princess. Once he can return home, his family sails with him, but a storm separates them, so Pericles returns alone. Years later, Pericles finds his daughter and reunites with the wife he had thought was dead.


All of the Shakespeare plays within the ARGO Classics catalogue are performed by the Marlowe Dramatic Society and Professional Players. The Marlowe was founded in 1907 with a mission to focus on effective delivery of verse, respect the integrity of texts, and rescue neglected plays by Shakespeare's contemporaries and the less performed plays of Shakespeare himself. The Marlowe has performed annually at Cambridge Arts Theatre since its opening in 1936 and continues to produce some of the finest actors of their generations.


Thurston Dart, Professor of Music at London University and a Fellow of Jesus College Cambridge, directed the music for this production.


The full cast includes: Frank Duncan; William Squire; Tony Church; John Tydeman; Michael Bate; Philip Strick; Norman Mitchel; Yvonne Bonnamy; David King; Margaret Rawlings; Denis McCarthy; Michael Hordern; Peter Orr; Margaretta Scott; Peter Woodthorpe; Patrick Wymark; David Buck; Gary Watson; Janette Richer; Prunella Scales; Richard Marquand; David Jones; Patsy Byrne.
Genres: