Personality Disorders: Autism Spectrum Disorders, Cognitive Behavioral Therapy, and Dyslexia
A free trial credit cannot be used on this title.
Unabridged Audiobook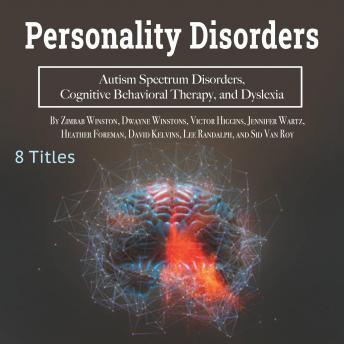 Duration:
7 hours 26 minutes
Summary:
This is a big combination of a series of books. There are 8 titles, which are divided into following themes:



Theme 1: What is cognitive behavioral therapy?

 

How is it used?

 

What can you achieve with such a form of treatment?

 

These and many other questions will be answered in this guide. Other topics will float to the surface, such as its use for boosting self-esteem, psychodynamic therapy, social healing, acceptance and commitment, misophonia, the Twelve Step Program, solutions for depression, and many others.

 



Theme 2: Schizophrenia is more common than you think. And there are a lot of false myths about it. Some people it's similar to multiple personality disorder, but this notion is far from the truth. Others say it's only related to voices or addictions. But there is more to it than that.

 

In this guide, we will shed more light on this important matter. Schizophrenia should be understood, empathized with, and acknowledged. Those who have it, are people, like all of us, with a slight disorder in their brain that has some negative side effects (and even a few positive ones).



Theme 3: Are there sociopaths in your life? You bet! You may not recognize them, or they may not be serial killers. Perhaps they are not causing any trouble at all. But to know what to look for, is pretty important, if you ask me.



Theme 4: What happens in the brain of someone who has Post-Traumatic Stress Disorder?

 

Why can't we either erase memories or cope with them when they have been shockingly awful?

 

Questions like these will be answered in this quick guide, as well as other interesting facts, anecdotes, and topics.



And 4 other titles!
Genres: