Personality Disorders: Discover What ADHD, OCD, Dyslexia, and Other Disabilities and Disorders Mean
A free trial credit cannot be used on this title.
Unabridged Audiobook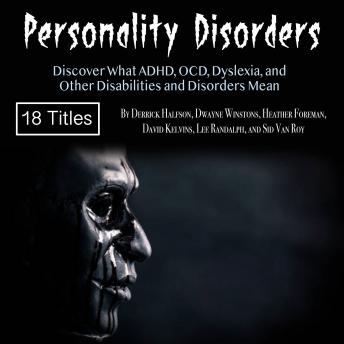 Duration:
16 hours 42 minutes
Summary:
These subjects are included in this 18-book combo:



Subject 1: Personality disorders can be challenging. I personally know people who have some kind of disorder. It's different when you interact with them. Not every moment, but the difference is in the details.



Subject 2: Schizophrenia is more common than you think. And there are a lot of false myths about it. Some people it's similar to multiple personality disorder, but this notion is far from the truth. Others say it's only related to voices or addictions. But there is more to it than that.



Subject 3: ADHD is a condition in the brain many people are somewhat familiar with.

 

However, when it comes to the specifics, the majority of us are still left in the dark. The main essence of ADHD is missing when people just think that you're hyperactive and unfocused. There is way more to it. And not only is so much more to say about the causes of ADHD, but about the consequences as well.



Subject 4: Asperger's Syndrome is sometimes called high-functioning autism. The premise of this definition will be explained in this book, detailing the various aspect of the disorder, as well as possibilities and limitations.



Subject 5: Dyslexia may be more common than you think. And it's important to know about it if someone has it. What's even more crucial, is knowing how to recognize it, learning to deal with it, and find solutions to solve some of the common problems it can create.



Subject 6: Obsessive Compulsive Disorder is quite common. It is one of those things that you should know more about, because there might be someone in your life who has it. The condition has pros and cons, but if you don't know about any of those, life can be tough.
Genres: