Personality Disorders: Learn More about Asperger's, Dyslexia, OCD, ADHD, Sociopathy, and Schizophrenia
A free trial credit cannot be used on this title.
Unabridged Audiobook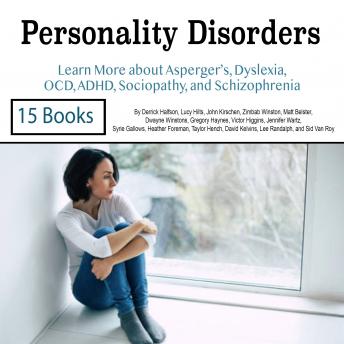 Duration:
13 hours 41 minutes
Summary:
This is a combination of a series of books. 15 short books, to be exact, which are divided into the following topics:

 


Topic 1: Some disorders are interesting or a little difficult to handle. Others are downright scary. In this book, you will learn about both: The less threatening ones and the psychopathic ones that increase the risk of criminal activity.

 

Some disorders you will find in this book are:

 

Paranoid Personality Disorder

Antisocial Personality Disorder

Dissociative Identity Disorder

Sexual Desire Disorder

Obsessive-Compulsive Personality Disorder

Histrionic Personality Disorder

Eating Disorders

Sadomasochism

 



Topic 2: What is so difficult about diagnosing bipolar disorder?

 

What are possible solutions?

 

These and many other questions will be answered in this book. Aside from this, clinical concepts will be discussed, as well as nutritional resources, the connection to autism, suicidal tendencies, and the overlap of the symptoms in schizophrenia.

 



Topic 3: As one of the means to help solve depression and anxiety, cognitive behavioral therapy is certainly worth looking into. Many people have misunderstandings about this form of therapy; this book is committed to getting those misunderstandings out of the way.

 



Topic 4: In this guide, the first thing we'll point out is how difficult it is to go through life with a mother or father who has Borderline Personality Disorder.



Topic 5: Some of the most gruesome serial killers will be explained. The brutal rapes, mutilation, murders and stories by the following killers will be laid forth:

 

Ted Bundy

Jack the Ripper

Luis Garavito

Ahmad Suradji


And 10 other books!
Genres: