Peter Galaxy, Interstellar Envoy
Unabridged Audiobook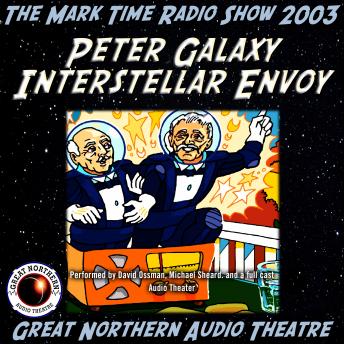 Duration:
0 hours 29 minutes
Summary:
A full-cast comedy production recorded live at Convergence in Bloomington, Minnesota

Peter Galaxy and his sidekick, Dr. Simon, used to be big stars on the radio. Now they're just two retired actors playing cards on the front porch and riding herd on the grandchildren. But can these two old-timers find work for three hundred billion illegal aliens? Yeah, we wondered about that question too.

We've always wondered what would happen if two of our favorite worlds were to collide. When Star Wars veteran and Dr. Who alumnus the late Michael Sheard joined David Ossman of the Firesign Theatre (and the voice of Mark Time himself) on stage, we found out: the universe got funnier. That's valuable information.
Genres: