Peter Pan in Scarlet
Unabridged Audiobook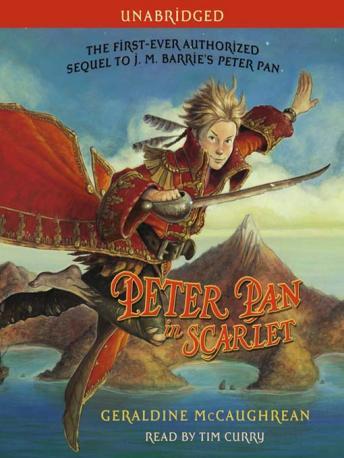 Duration:
7 hours 15 minutes
Summary:
Journey back to Neverland in the first-ever authorized
sequel to J.M. Barrie's timeless masterpiece, Peter Pan

The Special Trustees of Great Ormond Street Hospital for Children, who own the copyright to the movie Peter Pan, marked that work's centenary by authorizing the creation of a new novel that would share the same characters as the original, and bring as much pleasure to children and adults around the world as Peter Pan has done. The result of a worldwide search to find just the right author for this special sequel is this - Peter Pan in Scarlet by the renowned and multi-award winning Geraldine McCaughrean.

Set in the 1930s when the devastating effects of World War I are still resonating throughout the world, Peter Pan in Scarlet sets listeners on an unforgettable journey fraught with danger. All is not well. Dreams - nightmares - are leaking out of Neverland as it chafes against the Here and Now, wearing holes in the fabric in between. Somehow Time is moving on where Time was never meant to. Fearing for Peter Pan's life, Wendy and the Lost Boys find their way back to Neverland - with the help of the fairy, Fireflyer - only to discover adventure waiting in ambush and their worst nightmare coming true in the most unexpected of ways!
Genres: