The Plague Blade: The Bizarre Blades, Book 3
A free trial credit cannot be used on this title.
Unabridged Audiobook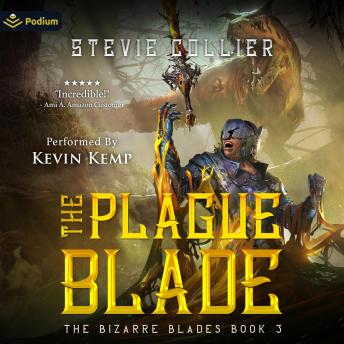 Duration:
10 hours 43 minutes
Summary:
A black-magic plague devours the realm. To stop it, he'll have to slay his girlfriend's dad.

Finn Featherstone has transformed from a scrawny nobody to rising hero. But unlocking the true strength of his Jigsaw Blade and winning the heart of the beautiful Ariel hasn't delivered joy. Especially after his father's murder and the massacre of an entire kingdom by the dark sorcerer who just so happens to be his sweetheart's next of kin.

As scourge-ridden monstrosities threaten the land, Finn must slice his way through a massive army to break the sinister Plague Blade. With contaminated monsters closing in on all sides, he's running out of time to master his bright weapon before the darkness swallows him whole.

Can Finn wield his mighty sword and save their world from obliteration?

The Plague Blade is the third book in the quirky Bizarre Blades sword and sorcery fantasy series. If you like memorable characters, imaginative magic, and edge-of-your-seat action, then you'll love Stevie Collier's darkly comedic adventure.
Genres: