The Plot to Save Socrates
Unabridged Audiobook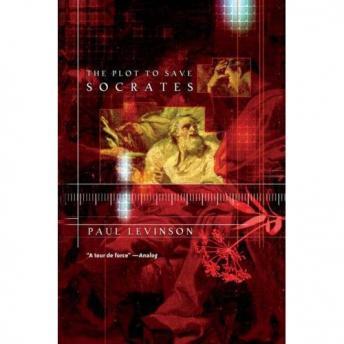 Duration:
8 hours 51 minutes
Summary:
Paul Levinson's astonishing new science fiction novel is a surprise and a delight.

In the year 2042, Sierra, a young graduate student in Classics is shown a new dialog of Socrates, recently discovered, in which a time traveler tries to argue that Socrates might escape death by travel to the future. Thomas, the elderly scholar who has shown her the document, disappears, and Sierra immediately begins to track down the provenance of the manuscript, with the help of her classical scholar boyfriend, Max. The trail leads her to a time machine in a gentlemen's club in London and in New York, and into the past, and to a time traveler from her future, posing as Heron of Alexandria in 150 AD.

Complications, mysteries, travels, and time loops proliferate as Sierra tries to discern who is planning to save the greatest philosopher in human history, or to do so herself. And she finds that time travel raises more questions than it answers. Fascinating historical characters from Alcibiades (of the honeyed thighs) and Thomas Appleton, the great 19th century American publisher, to Socrates himself, appear. With surprises in every chapter, Paul Levinson has outdone himself in The Plot to Save Socrates.
Genres: