POLYVAGAL THEORY VAGUS NERVE : A COMPREHENSIVE GUIDE TO UNDERSTANDING THE AUTONOMIC NERVOUS SYSTEM, REDUCE ANXIETY, DEPRESSION, STRESS AND HEALING THE VAGUS NERVE
A free trial credit cannot be used on this title.
Unabridged Audiobook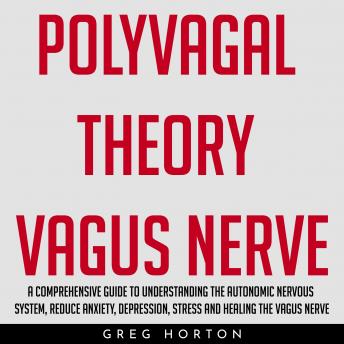 Duration:
12 hours 18 minutes
Summary:
Discover The Many Benefits of Polyvagal Theory: Reshape Your Autonomic Nervous System And Reduce Anxiety And Stress Along The WayAre you looking to understand your autonomic nervous system, as you wish to learn about the unconscious regulation of bodily functions?

Do you wish to improve your health by working on your heart rate, digestion, respiratory rate, etc?

Polyvagal theory observes three different branches of the autonomic nervous system that evolved from very primitive vertebrates to mammals. The evolution or sequence which occurred is quite interesting! The first one is related to death feigning or immobilization. It is followed by a mobilization system or fight or flight system. Finally, there is something which is called the social engagement system, which allows you to detect features and communicate safely with others.

Here's what you can learn from our detailed guide on polyvagal theory and vagus nerve:


- Discover the secret of polyvagal theory and its reasons for the success
- Learn how to apply polyvagal theory to social issues
- What is the vagus nerve and what are its many advantages
- And many more!

This book is perfect for anyone who experiences symptoms of chronic stress and depression. Every page in this book is filled with important information on how to optimize autonomic functioning and heal your body by bringing it into the state of safety.

Are you ready to start your healing process now?!

Scroll up, click on 'Buy Now with 1-Click', and Get Your Copy Now!
Genres: