Postwar: A History of Europe Since 1945
Unabridged Audiobook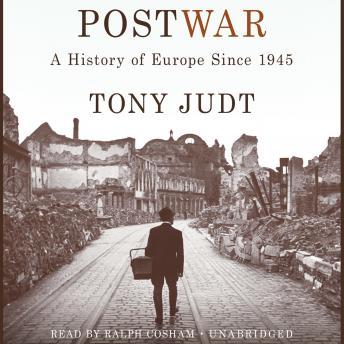 Duration:
43 hours 8 minutes
Summary:
Almost a decade in the making, this much-anticipated grand history of postwar Europe from one of the world's most esteemed historians and intellectuals is a singular achievement. Postwar is the first modern history that covers all of Europe, both east and west, drawing on research in six languages to sweep readers through thirty-four nations and sixty years of political and cultural change—all in one integrated, enthralling narrative. The book incorporates international relations, domestic politics, ideas, social change, economic development, and culture—high and low. Every country has its chance to play the lead, and although the big themes are superbly handled—including the cold war, the love/hate relationship with America, cultural and economic malaise and rebirth, and the myth and reality of unification—none of them is allowed to overshadow the rich pageant that is the whole. Vividly and clearly written for the general reader, witty, opinionated, and full of fresh and surprising stories and asides, Postwar is a movable feast for lovers of history and lovers of Europe alike.

Both intellectually ambitious and compelling to read, thrilling in its scope and delightful in its small details, Postwar is a rare joy.
Genres:
2 of 2 people found this review helpful.

1 of 1 people found this review helpful.