Power-Packed Spiritual Affirmations For Women: 21 Quick and Powerful Declarations to Super Charge Your Mind and Body for Daily Success
Unabridged Audiobook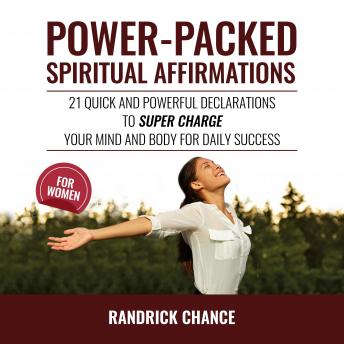 Duration:
0 hours 39 minutes
Summary:
Your Success Each Day Depends On The Condition of Your Mental, Physical, Emotional, Relational, and Spiritual State of Being.
Therefore, your purpose, peace, and joy are determined by the habits and mindset you adopt when you awake. These power-packed spiritual affirmations are just the thing you need to program yourself for peak performance today. And they are easy to implement too!
All you have to do is simply repeat each one out loud to yourself with confidence and conviction. You may post these 21 Quick and Powerful Declarations to Super Charge Your Mind and Body for Daily Success in your office or on your bathroom mirror. Say them often. Memorize them. Become one with them.
Master the key areas of your life by taking charge of your morning routine. Use these affirmations as described and in no time you'll find that you automatically attract the blessings and miracles you desire and achieve your goals almost effortlessly.
All the best of love, prosperity, happiness, and contentment to you!
Genres: