Priceless
Unabridged Audiobook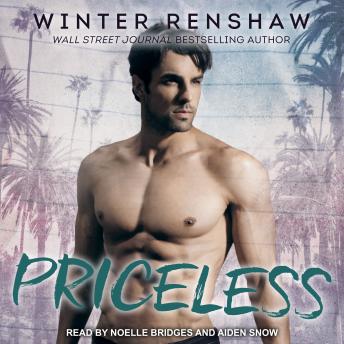 Duration:
7 hours 48 minutes
Summary:
It was New Year's Eve, and I should've been ringing in the night with cheap champagne and bad decisions at home in New York. Instead I found myself holed up in some hotel room in Southern California.

But I wasn't alone. I was in the company of a fellow stranded traveler by the name of Cristiano. We spent one night together-forced into the same hotel room by the snowstorm that canceled our flights and changed our lives.

His dimpled smile, panty-melting kisses, and charming wit were a temporary distraction from the chaos of the day . . . or the past year. But as soon as morning broke, I set my sights on getting home. I rented a car, mapped out my 2,749 mile journey, and packed my bags.

Only Cristiano insisted on joining me. He needed to get home, too. His best friend was getting married on Saturday. And he refused to let me go it alone. It wasn't safe, he said.

Trekking across country with an alluring stranger was certainly one of the more adventurous moments of my life. Falling for him was certainly one of the most daring. But uncovering his secrets? That was the most challenging. And the truth I learned . . . would shatter us both.

Contains mature themes.
Genres: