Princess of the Hither Isles: A Black Suffragist's Story from the Jim Crow South
Unabridged Audiobook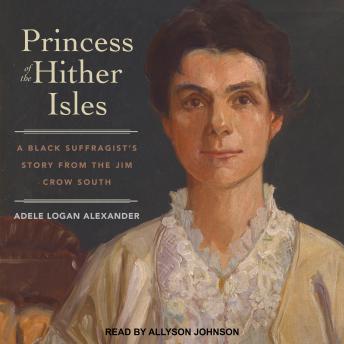 Duration:
12 hours 4 minutes
Summary:
A compelling reconstruction of the life of a black suffragist, Adella Hunt Logan, blending family lore, historical research, and literary imagination.

Born during the Civil War into a slaveholding family that included black, white, and Cherokee forebears, Adella Hunt Logan dedicated herself to advancing political and educational opportunities for the African American community. She taught at Alabama's Tuskegee Institute but also joined the segregated woman suffrage movement, passing for white in order to fight for the rights of people of color. Her determination-as a wife, mother, scholar, and activist-to challenge the draconian restraints of race and gender generated conflicts that precipitated her tragic demise.

Historian Adele Logan Alexander-Adella Hunt Logan's granddaughter-portrays Adella, her family, and contemporaries such as Booker T. Washington, Susan B. Anthony, Frederick Douglass, George Washington Carver, Theodore Roosevelt, and W. E. B. Du Bois. Alexander bridges the chasms that frustrate efforts to document the lives of those who traditionally have been silenced, weaving together family lore, historical research, and literary imagination into a riveting, multigenerational family saga.
Genres: