Priscilla: The Hidden Life of an Englishwoman in Wartime France
Unabridged Audiobook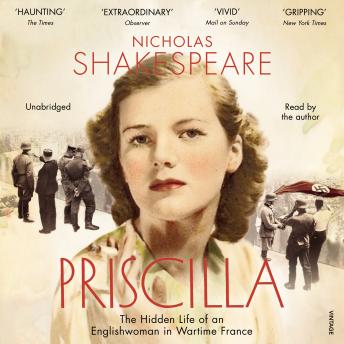 Duration:
15 hours 54 minutes
Summary:
The astonishing true story of a young woman's adventures, and misadventures, in the dangerous world of Nazi-occupied France.

'A most strange and compelling book driven by the writer's unsparing search for truth: now an optimistic hunt for a family heroine, now a study in female wiles of survival, now a portrait of one very ordinary person's frailty in the face of terrible odds.' John le Carré

When Nicholas Shakespeare stumbled across a box of documents belonging to his late aunt he was completely unaware of where this discovery would take him. The Priscilla he remembered was very different from the glamorous, morally ambiguous young woman who emerged from the many love letters and journals, surrounded by suitors and living the dangerous existence of a British woman in a country controlled by the enemy. He had heard rumours that Priscilla had fought in the Resistance, but the truth turned out to be far more complicated.

As he investigated his aunt's life, dark secrets emerged. Nicholas discovered the answer to the questions he'd been puzzling over: what caused the breakdown of Priscilla's marriage to a French aristocrat? Why had she been interned in a prisoner-of-war camp and how had she escaped? And who was the 'Otto' she was having a relationship with as Paris was liberated?

Priscilla's story shows us the precariousness of life in occupied France, when loyalties were compromised and life could change in an instant. It gives us an intimate insight into women's lives in times of conflict and asks us to consider what we might do to survive in similar circumstances.
Genres: