Promote Yourself: The New Rules for Career Success
Unabridged Audiobook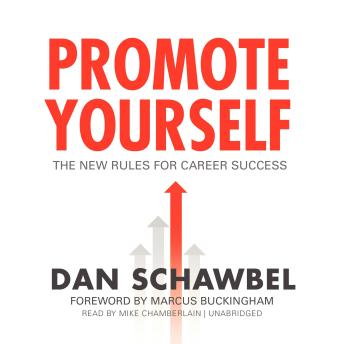 Duration:
7 hours 56 minutes
Summary:
How people perceive you has always been critical to asuccessful career. Now add in the Internet, social media, and the unrelentinghum of 24/7 business, and the ability to brand and promote yourself effectivelybecomes absolutely essential for young professionals to land the job, earn theraise, or get that much-deserved promotion. It is only with the ability topromote yourself that managers and executives can see Gen Y workers asinvaluable employees, game-changing managers, or the people whose names aresynonymous with success. So how do they stand out and get ahead?
Drawing on proprietary research and countless interviewswith the most dynamic professionals in business today, career guru and founderof Millennial Branding Dan Schawbel takes readers through his step-by-stepprocess of creating unique personal brands and leveraging them to maximumadvantage. By basing these brands on the rock-solid foundation of hard, soft,and online skills that are essential to get the job done right and by knowingexactly what managers value, Schawbel provides every reader with the skills and message that they'll need to get ahead today and for the rest oftheir careers.
The subtle and amazingly effective art of self-promotion isthe razor-thin difference between success and failure. Schawbel's PromoteYourself: The New Rules for Career Success is the definitive book on the new rules for building an outstanding career.
The book contains
A 360-degree view of the twenty-first century workplaceand how to navigate it successfully.Over 75 interviews with executives, managers, andmillennial employees from the most prestigious companies in the world,including Google, Cisco, Aflac, Mattel, GE, Fox News, LinkedIn, State Street, Adidas, Pandora, PepsiCo, Tyson Foods, Ernst & Young, the New York Times, American Express, and more.An exclusive research study in partnership with AmericanExpress revealing the top ten attributes managers are looking for whenpromoting and more.Cutting-edge advice on how to create your own careerpath, turn your passion into a new position, and become a successful entrepreneurat your company.
Genres: