The Proper Care and Maintenance of Friendship
Unabridged Audiobook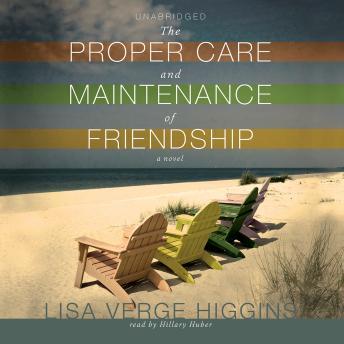 Duration:
10 hours 18 minutes
Summary:
Rachel Braun was the inspiration to her group of friends, the one who lived each day to the fullest—and the one whose life was cut tragically short. Upon her untimely death, Rachel left letters for her three best friends challenging them to face their biggest fears.
Sarah, an international relief worker who calls the steamy jungles of Africa home, must travel halfway around the world to track down the only man she ever loved. Stay-at-home mom Kate must confront her fear of heights by skydiving and soon finds that her new hobby is affecting her once-tranquil marriage. She and her husband must find a way to rekindle the romance they once shared. And Jo, a media mogul voted "least likely to breed," is given the most terrifying assignment of all: caring for Rachel's orphaned and grieving little girl. In doing so, Jo is forced to confront her own unhappy childhood—and the wall it has built around her heart.
Even as these women mourn Rachel's passing, her legacy lives on and their lives are enriched by a friend who, in many ways, knew them better than they knew themselves.
Genres: