Prophecy of the Sisters
Unabridged Audiobook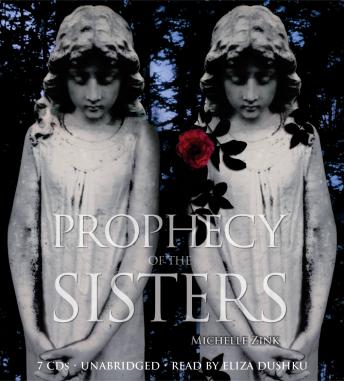 Duration:
8 hours 0 minutes
Summary:
Without the Keys, something terrible will happen.
Something that cannot be undone.
And with them, I might bring an end to the riddle of the Prophecy and my strange part in it.

If Alice and I are on conflicting sides of the Prophecy,
the Keys would be dangerous in her hands.
Which means I have to find them.
And I have to do it before my sister.

Sixteen year-old Lia Milthorpe has just recently lost her father, leaving her parentless. But when a strange mark appears on her wrist, she realizes she is being branded with much more than her newfound title of orphan. Lia and her twin sister Alice are part of an ancient prophecy that has turned generations of sisters against each other.

Lia hides this discovery from Alice and even from her beloved James, but to escape from the burden this secret bestows she must end the prophecy-before her sister. Only then will she understand the mysterious circumstances of her parents' deaths, the true meaning of the mark on her wrist, the lengths to which her sister will go to defeat her, and the impact the resolution of the prophecy could have.

With, haunting, lyrical prose, this multi-layered story of family, friendship, and romance explores the timeless question of predetermination versus free will. And it takes readers on an unforgettable coming-of-age journey where one sister's self-discovery could have an impact of Biblical proportion.
Genres: