Prophesy: Book II: The Bringer of Wrath
Unabridged Audiobook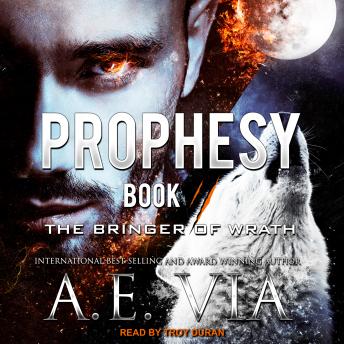 Duration:
9 hours 24 minutes
Summary:
Shifter and Vampire True Mates story.

Alek's older brother, Justice-the Alpha Zenith-was the first shifter to mate with a vampire in many generations, and it was believed the rare, fated pairing would stop at him. But, it hadn't. Aleksei 'Alek' Volkov was second beta, next in succession to the most powerful shifter in the world. He was proud of his title and he took his duties seriously. It was all he had. Until his true mate literally showed up on his doorstep.

Belleron 'Bell' Liatos had come to the states for one reason-his best friend and Vampire King, Chadwick Bentley. He certainly didn't come to be pounced on by a wolf that could act independently of its master. Not only was his destined cherished a complicated and confused man; but he was also unaware of the powerful presence that lurked in the shadows of his soul. Bell didn't know he'd be the key to unlocking an exceptional triad that would play a critical role in fulfilling the prophesy.

Contains mature themes.
Genres: