Prospect
Unabridged Audiobook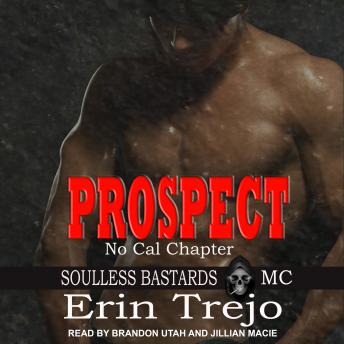 Duration:
4 hours 30 minutes
Summary:
Prospect: I am the recent prospect for the SBMC. I want that patch more than anything in the world. To say that I earned it is the highest honor for me. I do the grunt work. I take the bullets. I do it all with pride. I respect this club and its members. Even more, I respect her. Cherry. The club whore. That's not how I see her. Beneath the depths of her thick skin, there is something I want to earn more than anything. Her heart.

Cherry: My past still haunts my future. In my eyes, it will never change. Letting anyone get close to me isn't an option. Brooke is the closest friend I have and she doesn't even know what haunts me. Nuts, the prospect, has had me in his sights for a while now. It would be so easy to give in but I can't. When he earns way more of me than I was willing to give, I'm scared. Truths are revealed and lies come out. Now we're thrown into the living hell that is my life.

Contains mature themes.
Genres: