Psychic Development: The Ultimate Beginner's Guide to developing psychic abilities, clairvoyance, and third eye awakening
A free trial credit cannot be used on this title.
Unabridged Audiobook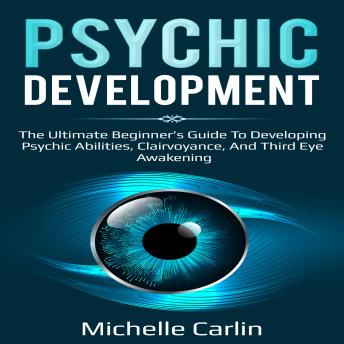 Duration:
3 hours 45 minutes
Summary:
PSYCHIC DEVELOPMENTThis book covers the topic of psychic development and will educate you on the many different psychic abilities that people can possess. Everyone is born with psychic abilities, but unfortunately most never tap in to and develop these hidden skills.

Inside, you will learn about the many different psychic abilities that exist, as well as how to develop them further through meditation, chakra balancing, and dedicated activities designed specifically for each psychic skill that you wish to enhance. In addition, you will also learn about spirit guides and how you can communicate with them in order to improve your abilities and live a more fulfilled life. 

At the completion of this book you will have a good understanding of the many different psychic skills, and be armed with a range of strategies and activities that will help you to further develop these abilities!

Here Is A Preview Of What You'll Learn About Inside…
- The Different Psychic Abilities
- How To Develop Your Psychic Abilities
- How To Communicate With Spirit Guides
- How To Awaken Your Third Eye
- How To View Auras
- How To Open And Heal Your Chakras
- The Benefits Of Developing Your Psychic Abilities
- Much, Much More!
Genres: