Public Enemies
Abridged Audiobook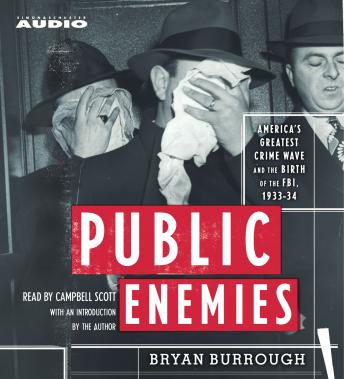 Duration:
6 hours 9 minutes
Summary:
The astonishing true story of America's first and greatest 'War on Crime.'
In Public Enemies, Bryan Burrough strips away a thick layer of myths put out by J. Edgar Hoover's FBI to tell the full story of the most spectacular crime wave in American history, the two-year battle between the young Hoover and an assortment of criminals who became national icons: John Dillinger, Machine Gun Kelly, Bonnie and Clyde, Baby Face Nelson, Pretty Boy Floyd, and the Barkers.
In 1933, police jurisdictions ended at state lines, the FBI was in its infancy, and fast cars and machine guns were easily available. It was a great time to be a bank robber. On hand were a motley crew of criminal masterminds, sociopaths, romantics, and cretins.
Bryan Burrough has unearthed an extraordinary amount of new material on all the major figures involved -- revealing many fascinating interconnections in the vast underworld ecosystem that stretched from Texas up to Minnesota.
But the real-life connections were insignificant next to the sense of connectedness J. Edgar Hoover worked to create in the mind of the American public-using the 'Great Crime Wave' to gain the position of untouchable power he would occupy for almost half a century.
Genres:
3 of 3 people found this review helpful.

2 of 2 people found this review helpful.

2 of 2 people found this review helpful.