Puteshestviya Kak Sposob Izmenit' Sebya (Travel As Transformation): Preodoleyte Kul'turnye Ramki, Chtoby Otkryt' Sebya Kak Lichnost' (Conquer The Limits Of Culture To Discover Your Own Identity) (Russ
Unabridged Audiobook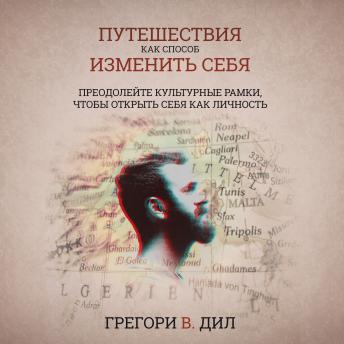 Duration:
4 hours 14 minutes
Language:
Russian
Summary:
Eto razumnyy, smelyy i neprimirimyy prizyv nayti sebya v stranstviyakh. Kogda vy puteshestvuete v drugie strany, vy ostaetes' pri etom samim soboy? Ili vy stanovites' drugim? Zhivya v furgone na ulitsakh San-Diego, vyrashchivaya kakao-boby s korennymi plemenami v Tsentral'noy Amerike, prepodavaya na Blizhnem Vostoke i zanimayas' volonterstvom v Afrike, Gregori V. Dil sledoval po obshcheprinyatomu i netraditsionnomu puti. Pokinuv svoy dom v Kalifornii eshche v podrostkovom vozraste, k 28 godam on prozhil i prorabotal v 45 stranakh mira.



V knige "Puteshestviya kak sposob izmenit' sebya" avtor opisyvaet svoy bogatyy kul'turnyy opyt v kachestve puteshestvennika po vsemu miru, chtoby pobudit' chitatelya zadumat'sya o svoikh vzglyadakh na sobstvennuyu zhizn'. Po mere pogruzheniya v soderzhanie etoy knigi vy uznaete, naskol'ko gluboko puteshestviya mogut povliyat' na vashe vospriyatie sebya. Gregori Dil ob"yasnyaet nachinayushchim puteshestvennikam, kak otpustit' svoi vnutrennie zaprety i prezhnee chuvstvo sobstvennogo "ya". On delitsya svoim opytom transformatsii, perezhitym v Kosta-Rike, Kitae, Marokko, Armenii, Irake, Monako, Ekvadore i mnogikh drugikh stranakh, chtoby vdokhnovit' puteshestvennikov i pobudit' ikh prinyat' izmeneniya. On priglashaet chitatelya otpravit'sya v puteshestvie, bespristrastno rassmatrivayushchee vse chelovechestvo.



Это разумный, смелый и непримиримый призыв найти себя в странствиях. Когда вы путешествуете в другие страны, вы остаетесь при этом самим собой? Или вы становитесь другим?



Живя в фургоне на улицах Сан-Диего, выращивая какао-бобы с коренными племенами в Центральной Америке, преподавая на Ближнем Востоке и занимаясь волонтерством в Африке, Грегори В. Дил следовал по мирскому и нетрадиционному пути. Покинув свой дом в Калифорнии еще в подростковом возрасте, к 28 годам он прожил и проработал в 45 странах мира. В книге "Путешествия как способ изменить себя" автор описывает свой богатый куль турный опыт в качестве путешественника по всему миру, чтобы побудить читателя задуматься о своих взглядах на собственную жизнь.



Грегори Дил объясняет начинающим путешественникам, как отпустить свои внутренние запреты и прежнее чувство собственного "я". Он делится своим опытом трансформации, пережитым в Коста-Рике, Китае, Марокко, Армении, Ираке, Монако, Эквадоре и многих других странах, чтобы вдохновить путешественников и побудить их принять изменения. Он приглашает читателя отправиться в путешествие, беспристрастно рассматривающее все че ловечество.



Книга "Путешествия как способ изменить себя" даст вам мудрость, вдохновение и знания для преодоления ограничений вашей культуры. Пришло время воспользоваться всем, что мир может предложить вам, и стать тем, кем вы можете быть.





English version: Travel as Transformation: Conquer the Limits of Culture to Discover Your Own Identity by Gregory V. Diehl



From living in a van on the streets of San Diego, to growing chocolate with indigenous tribes in Central America, to teaching in the Middle East and volunteering in Africa, best-selling author Gregory V. Diehl has followed a worldly and unconventional path through life. Leaving his California home as a teenager, he fully immersed himself, living and working, in 45 countries across the globe - all by age 28. In Travel as Transformation, he puts his diverse cultural experiences on display and asks the listener to question how their own identity has been shaped by the lifestyle they live.



As you delve into Travel as Transformation, you will learn just how profoundly travel can influence your perception of yourself. Diehl teaches aspiring travelers, vagabonds, and nomads to let go of their internal inhibitions and former sense of self. To encourage world wanderers to embrace change, he shares his own stirring experiences of transformation across Costa Rica, China, Morocco, Armenia, Iraq, Monaco, Ecuador, and more. By embarking on this nomadic journey alongside him, you will learn to examine all of humanity through unbiased eyes and discover all that lies just beyond your backyard. A new, vast cultural experience awaits.



To travel with a truly open mind is to forget who you were when you started. It is to be constantly born anew, and identify with ways of existence you did not know were possible. Travel as Transformation will give you the wisdom, the inspiration, and the resources to conquer the limitations placed on you by your home culture. It's time to take advantage of everything the world has to offer and become everything you can be.
Genres: