Radio Tales for the Road, Vol. 1: Transformational Journeys through Time, Space, and Memory
Unabridged Audiobook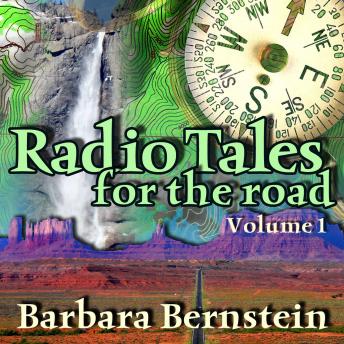 Duration:
0 hours 58 minutes
Summary:
Radio Tales for the Road is an ongoing series of transformational journeys through time,space, and memory, written, produced, and narrated by Barbara Bernstein.
Combiningstorytelling, documentary audio, radio drama, and original music, RadioTales are vivid recollections of the Summer of Love, the Days of Rage,discovering the wilderness, and the dysfunctional families that propelled somany of us to create our own realities. These wild and edgy tales dispel thenotion that if you remember the sixties you weren't really there.
In "GettingLost" Bernstein contrasts personal experiences of being lost in the wilderness,as a young hippie lost in Big Sur on her first trip out west and then thirtyyears later as a seasoned hiker, when she gets lost in a canyon in SouthernUtah and meets the many faces of Coyote the Trickster.
In "Hidden Waters"Bernstein explores life and death on underground rivers and underwaterwaterfalls, the ghosts of once abundant salmon fisheries that were formerly waterfalls and rapids, now inundated behind the dams on the Columbia River, andthen a culverted river in the producer's hometown on the day of her father'sfuneral.
Radio Tales for the Road was broadcast on Oregon PublicBroadcasting, KBOO-FM, and other stations in 2000 and 2003.
Genres: