Raid 42
Unabridged Audiobook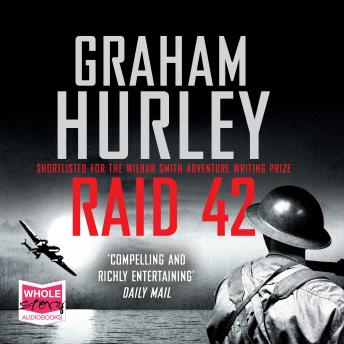 Duration:
11 hours 33 minutes
Summary:
From a critically acclaimed author comes the next instalment of the Wars Within series.

1941. Dieter Merz is the Reich's most celebrated fighter ace and his aerial prowess has brought him into close contact with the top echelons of Hitler's regime. But everything in the Nazi state still comes at a price. If Dieter wants help for an injured friend, he must inform on the modest, lifelong confidant always at Hitler's side: Rudolf Hess.
Meanwhile Scotsman and ex-marine Tam Moncrieff is working for M15, attempting to sound out Germany's intention of withdrawal. With most of Europe already fallen to Hitler's armies, Germany considers the war won. Berlin would be only too happy to call off the bombers and the U-boats in exchange for a formal peace treaty. But only if the English to turn their backs on Europe and attend to their precious Empire – leaving Germany the rest of the territorial spoils. With Churchill refusing to negotiate and intelligence agencies at each other's throats, Rudolf Hess becomes the unexpected catalyst that changes the fortunes of the war.

Praise for the author:
'Tense, absorbing and faultlessly plotted, this thoughtful thriller weaves it all together' SUNDAY TIMES Crime Club (Star Pick).
'Liked this. Went someway to plugging the ginormous hole that Philip Kerr sad passing has left in my life' DERMOT O'LEARY.
'Hurley brings an almost noirlike sensibility to the surprising finale' BOOKLIST.
'So well-written you can smell the sweat and taste the fear' PETER MAY.
'Beautifully constructed, the result is compelling and richly entertaining' DAILY MAIL.
Genres: