The Rape of Lucrece
Unabridged Audiobook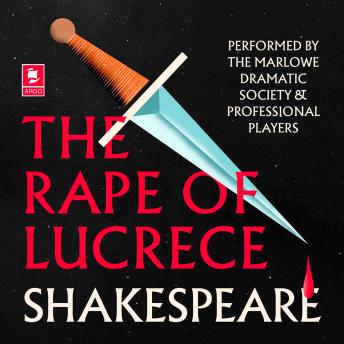 Duration:
1 hours 49 minutes
Summary:
William Collins Books and Decca Records are proud to present ARGO Classics, a historic catalogue of classic prose and verse read by some of the world's most renowned voices. Originally released as vinyl records, these expertly remastered stories are now available to download for the first time.


'But no perfection is so absolute
That some inpurity doth not pollute.'


The Rape of Lucrece follows a popular story from one of Shakespeare's favourite ancient writers, Ovid. Lucrece is the angelic wife of Collatine, an illustrious Roman general. She is coveted and eventually attacked by Prince Tarquin, Collatine's best friend.


All of the Shakespeare plays within the ARGO Classics catalogue are performed by the Marlowe Dramatic Society and Professional Players. The Marlowe was founded in 1907 with a mission to focus on effective delivery of verse, respect the integrity of texts, and rescue neglected plays by Shakespeare's contemporaries and the less performed plays of Shakespeare himself. The Marlowe has performed annually at Cambridge Arts Theatre since its opening in 1936 and continues to produce some of the finest actors of their generations.


Thurston Dart, Professor of Music at London University and a Fellow of Jesus College Cambridge, directed the music for this production.


The full cast includes: Readers: Tony Church; George Rylands; Peggy Ashcroft; Denis McCarthy; Peter Holmes; Peter Orrl Janette Richer.
Genres: