RealAge
Abridged Audiobook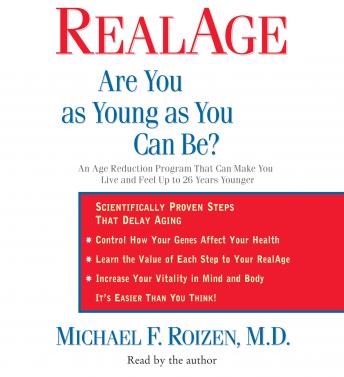 Duration:
3 hours 8 minutes
Summary:
Remember your high school reunion? Even though everyone was the same chronological age, people no longer looked the same. Some stayed young and exuberant, whereas others looked as if they had aged ten years more than everyone else. Did you know that:


- Financial stress can make your RealAge two to thirty-two years older?
- A tablet of aspirin a day can make your RealAge 1.9 years younger?
- Flossing daily and seeing a dentist and dental hygienist every six months can make your RealAge 6.4 years younger?

RealAge offers a revolutionary program that calculates the aging effect of different health behaviors ranging from diet and medication to stress control and chronic smoking, and enables you to assess your own biological age. Most important, it shows you how to design a specific path to improving or reversing your own aging trajectory, and it's easier than you think. The RealAge program is based on cutting-edge scientific research. Dr. Michael F. Roizen and his team have pored over 25,000 medical studies, evaluating what they tell us about aging and the prevention of aging.
Genres: