The Rebound Pact
Unabridged Audiobook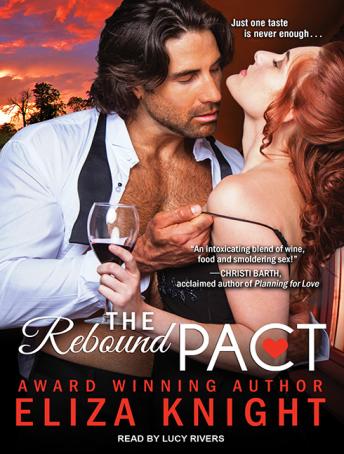 Duration:
6 hours 0 minutes
Summary:
After college, Gabrielle Dane makes one terrific mistake. Thinking she's sneaking into her crush's bedroom at an all-night college party, she ends up sleeping with her older brother's best friend. It's only when the sun comes up that she recognizes Holden Bellamy. Mortified, Gabrielle leaves to train with a renowned chef in France, vowing never to return to her hometown and the awkwardness of her one-night stand mix-up. But several years later, she finds herself doing just that, and she runs smack into the delicious man who makes her catch her breath.

Holden Bellamy, owner of Belle Ami, a critically acclaimed vineyard, has always had a thing for his best friend's little sister . . . even if she was off-limits. Waking up to her in the morning several years back was a remarkable surprise, one that crashed and burned when she left town without a word. Now he's face-to -face with the woman he never stopped wondering about.

The attraction between Gabrielle and Holden still sizzles, even after all these years. But having just experienced serious breakups, neither one is ready to start again. Instead, they make a rebound pact. Casual sex, no strings attached-and rule #1? Don't fall in love. Problem is, with each scorching encounter, Gabrielle and Holden find themselves falling hard and fast.
Genres: