The Redheaded Outfield: From the Baseball Stories
A free trial credit cannot be used on this title.
Unabridged Audiobook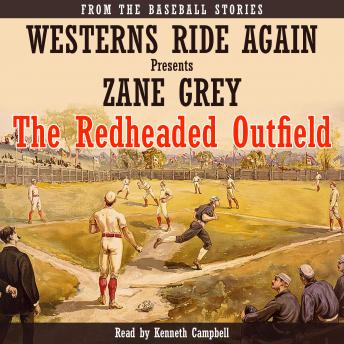 Duration:
0 hours 36 minutes
Summary:
Zane Grey, one of the most famous Western writers of all-time loved Baseball, so it is no surprise that he would find a way to concoct a fictitious game in his own gut busting funny way. The Story is told by Award Winning Narrator Kenneth Campbell about 3 quirky outfielders known as Delaney's red-haired trio, composing the most remarkable outfield ever developed in minor league baseball. Red Gilbat, left field, was nutty--and a weird, long- legged, long-armed, red-haired illusive phantom. When the gong rang at the ball grounds to start play, he would be up to some shenanigan. Reddy Clammer, right field, was a grand-stand player--the kind all managers hated, and he was hitting .305. Reddie Ray, center field had been the intercollegiate champion in the sprints and a famous college ball player, and he was hitting .400. It was a beautiful sight to see him run. Tied in the race for the Pennant, this bizarre game could decide the championship…If only Delaney can keep them under control.
Genres: