RENTAL PROFITS: Ultimate Guide 2 in 1: Rental Property Investing for Beginners and Rental Property Investing for Experienced Investors
A free trial credit cannot be used on this title.
Unabridged Audiobook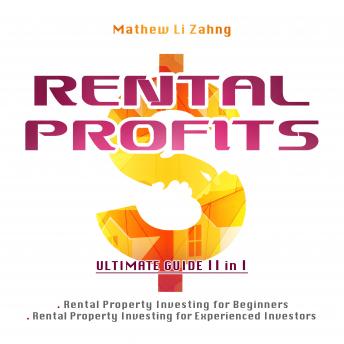 Duration:
7 hours 16 minutes
Summary:
The truth about Rental Property Investing. This is the best period ever to study.This book is jam-packed with valuable information on the kinds of properties that can be turned into rental properties, investment strategies, financing options, how to deal with contractors and much more. How should you handle major repairs?  How much rent should you charge?  Is it still worth it? Read this book to get the answers before you make a decision. In this Bundle you'lle get: 

FIRST PART


- The first things you should do before you even begin to look for a property
- How to generate profits by careful planning 
- The pros and cons of investing in rental properties
- How to recognize and avoid real estate scams
- What kind of property to invest in even with limited capital
- Rental property rehabs and how to work with contractors

SECOND PART


- What pre-rental steps you should take each time you rent one of your properties?
- Why you should keep a record of every communication you have with your tenant and how to set communication limits that will work for you
- What are the pros and cons of investing out of state properties? What scams should you be aware of? What areas may prohibit rental properties?
- Why you should become an expert in real estate market property analysis and how you can achieve this
- Why you should be prepared in the event of a catastrophic event at your rental property in case your worst fear becomes a reality
- And more!

This book answers many questions and helps you to increase your real estate knowledge as well. 
Genres: