Reset: How This Crisis Can Restore Our Values and Renew America
Unabridged Audiobook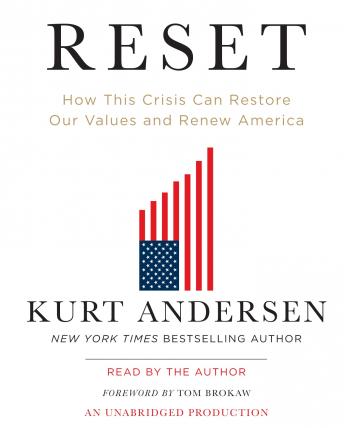 Duration:
1 hours 37 minutes
Summary:
"This is the end of the world as we've known it," Kurt Andersen writes in Reset. "But it isn't the end of the world." In this smart and refreshingly hopeful book, Andersen–a brilliant analyst and synthesizer of historical and cultural trends, as well as a bestselling novelist and host of public radio's Studio 360–shows us why the current economic crisis is actually a moment of great opportunity to get ourselves and our nation back on track.

Historically, America has always shifted between wild, exuberant speculation and steady, sober hard work, as well as back and forth between economic booms and busts, and between right and left politically. This is one of the rare moments when all these cycles shift dramatically and simultaneously–a moment when complacency ends, ossified structures loosen up, and enormous positive change is possible.

The shock to the system can enable each of us to rethink certain habits and focus more on the things that make us authentically happy. The present flux can enable us as a society to consolidate the enormous gains of the last several decades in areas such as technology, crime prevention, women's and civil rights, and the democratization of the planet. We can reap the fruits of a revival of realism and pragmatism at home and abroad. As we enter a new era of post-party-line common sense, we can start to reinvent hopelessly broken systems–in health care, education, climate change, and more–and rediscover some of the old-fashioned American values of which we've lost sight.

In Reset, Andersen explains how we've done it before and why we are about to do it again–and better than ever.
Genres: