Rethink: Smashing the Myths of Women in Business
A free trial credit cannot be used on this title.
Unabridged Audiobook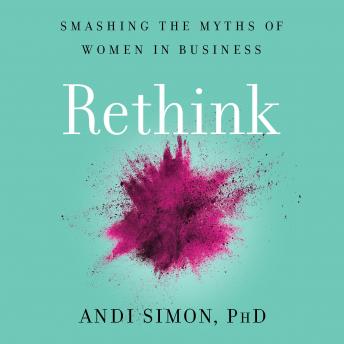 Duration:
7 hours 38 minutes
Summary:
Beyond the Glass Ceiling

More and more, women today are challenging long-held beliefs about what they can and can't do. They're speaking up, stepping out, breaking through, and redefining what society has always told them was true about their capabilities. In Rethink: Smashing the Myths of Women in Business, Andi Simon tells the stories of 11 women from different industries who opened up the possibilities for their professional careers and personal lives by being authentic, taking risks, and pushing past the obstacles others placed before them. These are stories that tell of innovation, show how women rise, and ignite change.

Andi, a corporate anthropologist, an award-winning author, and a successful entrepreneur, debunks myth after myth as she profiles the women in the book and offers key wisdom, insights, and observations through her unique lens. Whether about entrepreneurs, innovators, scientists, academics, attorneys, or leaders in other fields, the stories demonstrate how all the women have broken down walls and paved the way to more.

But this book isn't only about the 11 women who are pushing boundaries and transforming business, culture, and society; it's about inspiring all women to achieve and showing them a way to launch forward. Rethink provides the tools and framework for questioning society's norms, challenging our own current thinking, and smashing the preconceived notions about women that can so often hold us back from realizing our goals and dreams. In this book, you'll learn how to take a hands-on approach to examining and rethinking your own personal and professional life in order to recognize your fuller potential.
Genres: