Revolutionary Backlash: Women and Politics in the Early American Republic
Unabridged Audiobook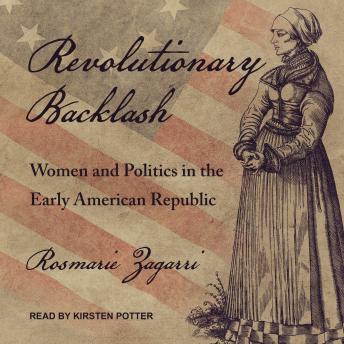 Duration:
9 hours 14 minutes
Summary:
The Seneca Falls Convention is typically seen as the beginning of the first women's rights movement in the United States. Revolutionary Backlash argues otherwise. Integrating the approaches of women's historians and political historians, this book explores changes in women's status that occurred from the time of the American Revolution until the election of Andrew Jackson.

Women built on precedents established during the Revolution and gained an informal foothold in party politics and male electoral activities. Federalists and Jeffersonians vied for women's allegiance and sought their support in times of national crisis. Women, in turn, attended rallies, organized political activities, and voiced their opinions on the issues of the day.

By 1828, women's politicization was seen more as a liability than as a strength, contributing to a divisive political climate that repeatedly brought the country to the brink of civil war. The increasing sophistication of party organizations and triumph of universal suffrage for white males marginalized those who could not vote, especially women. Yet all was not lost. Women had already begun to participate in charitable movements, benevolent societies, and social reform organizations. Through these organizations, women found another way to practice politics.
Genres: