Roaring Back: The Fall and Rise of Tiger Woods
Unabridged Audiobook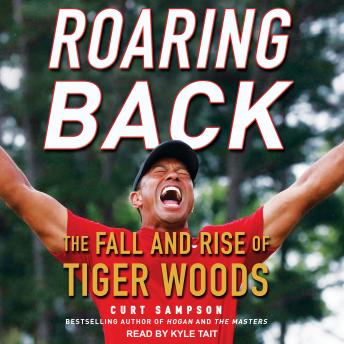 Duration:
6 hours 9 minutes
Summary:
One publicly imploded marriage. Two car accidents. Eight surgeries. And now, a miracle of hard work and storied talent: five Masters wins. Once hailed as 'the greatest closer in history' before he fell further than any beloved athlete in America's memory, Tiger swung at the world's wildest expectations and beat the skeptics with his April 2019 championship. Roaring Back traces his road to Augusta and the improbable, phenomenal comeback of one of the greatest golfers in history.

New York Times bestselling author Curt Sampson details the highs and lows of Woods's career in three gripping acts. From his startling loss at the 2009 PGA Championship, detrimental obsession with his swing, and that infamous night involving an ex-wife and a nine-iron . . . to adoring fans and lucrative sponsors turning their backs, exclusive interviews with past instructors and PGA tour peers, and an arrest complete with a toxicology report . . . finally to Tiger coming from behind for his fifth green jacket as the crowd rumbled in Georgia, and how his comeback rivals those of the most dramatic in his sport.

As this enthralling book reveals, Tiger never doubted the perseverance of the winner in the mirror.
Genres: