Ruined & Redeemed: The Earl's Fallen Wife
Unabridged Audiobook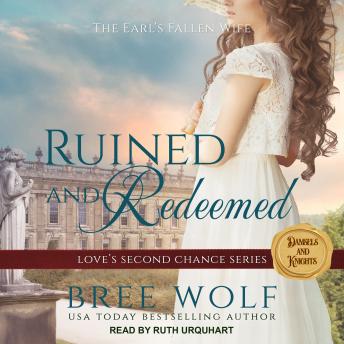 Duration:
10 hours 34 minutes
Summary:
A heinous crime. A valiant hero. An undeniable temptation.

Lady Charlotte Frampton is dead . . . at least, that is what everyone believes.

Fleeing from her life-shattering past, Charlotte reinvents herself as Lotte and becomes the companion to a viscount's sister. All she is hoping for is a simple and quiet life in the country, away from the demons that still plague her. However, her safe haven is threatened when a visitor arrives one day.

Sebastian Campbell, son to the Earl of Weston, failed in the most miserable way . . . and his sister had to pay the price. At his wits' end, he seeks advice from an old friend, and as though fate chose to intervene at last, his path crosses that of a young woman with soulfully deep eyes. The pain and regret he sees in them echo within his own heart, and Sebastian knows without a doubt that he has found his other half.

Can Sebastian convince Charlotte that it is never too late for forgiveness and love?
Genres: