The Rule of Four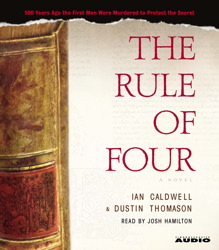 Duration:
12 hours 54 minutes
Summary:
A mysterious coded manuscript, a violent Ivy League murder, and the secrets of a Renaissance prince collide in a labyrinth of betrayal, madness, and genius.
THE RULE OF FOUR
Princeton. Good Friday, 1999. On the eve of graduation, two students are a hairsbreadth from solving the mysteries of the Hypnerotomachia Poliphili. Famous for its hypnotic power over those who study it, the five-hundred-year-old Hypnerotomachia may finally reveal its secrets -- to Tom Sullivan, whose father was obsessed with the book, and Paul Harris, whose future depends on it. As the deadline looms, research has stalled -- until an ancient diary surfaces. What Tom and Paul discover inside shocks even them: proof that the location of a hidden crypt has been ciphered within the pages of the obscure Renaissance text.
Armed with this final clue, the two friends delve into the bizarre world of the Hypnerotomachia -- a world of forgotten erudition, strange sexual appetites, and terrible violence. But just as they begin to realize the magnitude of their discovery, Princeton's snowy campus is rocked: a longtime student of the book is murdered, shot dead in the hushed halls of the history department.
A tale of timeless intrigue, dazzling scholarship, and great imaginative power, The Rule of Four is the story of a young man divided between the future's promise and the past's allure, guided only by friendship and love.
Genres: