Rules for Saying Goodbye
Unabridged Audiobook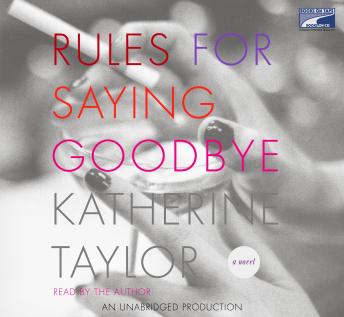 Duration:
9 hours 16 minutes
Summary:
Kate is having a hard time. Lucas, the journalist she moved to Rome to marry, seems to be breaking up with her. In actual fact, he doesn't want to feel responsible for making her happy. "You were never responsible for that," she answers, confused. "Happiness simply happened between us."

In Kate's world, pleasure and melancholy are close neighbors. RULES FOR SAYING GOODBYE follows Kate as she makes the unlikely migration from suburban California to a New England prep school, and then to Manhattan. Here she will enjoy a dissipated life of bartending and writing novels, falling in love with the wrong boys, and discussing these boys while smoking borrowed cigarettes on the sofa with her best friend, Clarissa. Her devotedly neurotic mother is desperate for Kate to marry someone, anyone, so she can be sure that someone else will love her daughter after she dies. But Kate has other ideas.

In this witty and affecting debut novel, fiction winks at real life: Katherine Taylor is its muddled heroine, and also its author. Fizzing with intelligence and charm, RULES FOR SAYING GOODBYE chronicles that heart-grabbing moment when you stop waiting for things to happen to you and go in search of them yourself.
Genres: